This Bookish Project Happiness is a weekly feature by Alena @ keepbooked; a compilation of all the things we find interesting, inspiring or artsy about books and/or reading in the internet or even in the real world.
For this week's BPH, I am going to share to everyone this beautiful quote which I got from Booknut a few days ago. It's just so touching and the meaning so clear and true.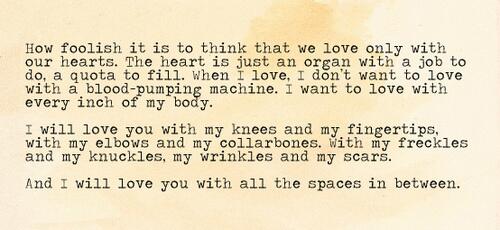 Hmm, the source is 'unclear' though. I've researched about it, if it's a book I haven't read or just a simple quote made by a random person. But I only found blogs with the same image without including the author's name and this. Anyhow, the writer seems to be really in love. Or maybe that's the way he/she plans to love someone, someday. Isn't this beautifully written? How the writer stated that we should not only love with hearts, but with everything we have, with every part of our body, with every vein, every organ and all the spaces in between? I find it really inspiring. In just 88 words, the writer was able to give an impact to everyone who reads the quote.
I'll cut this short because I don't have to explain or elaborate, by just reading the passage, you'll already get the point. I hope it also gave a good impact to you guys, just like how it gave me.
Did you like this post? Leave comments and tell me what you think! What about you? What caught your attention or what made you happy? Post your own Bookish Project Happiness and don't forget to link me your posts here as comments, I'd love to check them out!